Welcome to Free Bible Study Guides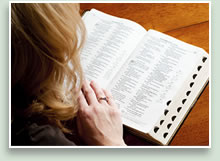 The Bible is a unique book full of inspiration, wisdom and practical answers. But it doesn't claim to be an easy book. It can be intimidating and overwhelming on first glance. These Bible Study Guides are designed to help. Our authors search the Scriptures with you in mind, considering what practical answers you need to deal with the real challenges in your life today. We want these lessons to be relevant, engaging and life-changing—making your life better now, and giving you a real, solid hope for your future.
These lessons are a work in progress, and we have dozens more in the works. Let us know any suggestions you have for future lessons or for improving these lessons. And let us know any way we can serve you better. Your input is important to us—you are important to God and to us! May God bless your study of His precious Bible!
These Bible Study Guides are designed to be studied on the Internet, and you are welcome to print them out if you want. We do not plan to print or mail these lessons.